MAY 10, 2010 WEIBEL NEWSLETTER
In an earlier newsletter I wrote that I believed this year's Weibel Chess Team was the strongest in our 21 year history. This weekend at the Hyatt Regency in Atlanta, Georgia, the Team proved my words true. Weibel Elementary School took the Primary School Championship (K-3) title tying with New York's Hunter School. We also placed third in the Elementary School Championship section (K-6). UNREAL!
Over 2000 players attended this year's Elementary School Nationals, the premier event of scholastic chess in the United States. New York chess schools and players generally dominate this event, but in the last couple of years the young players of Fremont, California have made their impact on the chess scene. Last year, Mission San Jose Elementary succeeded in winning the title waking the New York chess world to some West Coast city named Fremont. This inspired our Weibel parents under the leadership of Carl Moy and the organizational skills of Christy Lin to move our team to head east to prove that Mission San Jose Elementary School wasn't the only chess powerhouse on the West Coast.
At first only 12 players and their parents agreed to participate. Interest soared and by the time of the tournament Weibel had 16 participants in Atlanta, playing in three of the four championship divisions. In the Primary School (K-3) division, Michael Wang (3rd grade), Joanna Liu (2nd grade), Alisha Chawla (3rd grade), Desiree Ho (3rd grade), and Serafina Show (2nd grade) made up our team. Only four players points count for the team awards. The four who won us the title were Michael (2010 State Champion), Joanna (2010 Girl's National Champion), Alisha (2008, 2009 participant in the World Youth Championships) and Serafina. Serafina was our heroine. She was not scheduled to attend, yet she did so well in her recent competitions that she convinced her mom to let her go. It was her _ point draw in the last round of seven games that brought us victory. She also did well enough in her other games to win a trophy for the best under 800 rated player and bring her U.S. Chess Federation rating over 1000. Her new rating places her on our Weibel Chess Team Honor Roll and gets her our special cap that she can wear with deserved pride. Michael Wang also won a trophy, tying for ninth place. This is a wonderful accomplishment. To underline how difficult this competition was, Tanuj Vasudeva, the youngest FIDE Master ever and former National Champion, while tying for second, only took home the fourth place trophy.
COMMENTARY: In Weibel Chess girl's do rule! I doubt there has ever been a national championship chess team where three of the four point scorers were girls. Four of the five Weibel competitors in this section were girls. In checking the teams, I had to get to seventh place before I found what appeared to be a girl's name. So, please do not forget to register for this Saturday's Girls Championships at Weibel. This event is important to keep this tradition alive and I will not be able to afford to have it next year unless I double the present entries by Saturday: http://www.calnorthyouthchess.org/GirlsChampionships2010/info.html
We also entered a team in the K-5 division where we placed 17. Yet, that was out of 42 teams. Our players here included Sameer Vijay (5th grade), Geeta Shankar (4th grade), Ishas Kekre (4th grade) and Calvin Tam (5th grade). Sameer, who had did not do very well at the State Championships rebounded back to his chess excellence and scored the most points for us bring home a second place trophy for those rated under 1100. His rating jumped to 1278 at the end of this weekend.
We could have done better in the K-5 Championships if Kevin Moy (4th grade) had remained there. However, he and his dad decided it was best for him and the team to play up a section. Boy, are we glad he did and I am sure the Moy's are as well. Kevin helped bring our Team a third place trophy and coming home with an 18th place trophy for his tie for 15th place. Daniel Ho (6th grade) also tied for 15th place and received a 20th place trophy. This section had 189 players.Ê

We were a contender for first place in the Elementary (K-6) Championship through the three days of the event. Going into the last round we had a shot at two titles. It was not a great round for our players as most of them faced individuals who had higher ratings. Besides Daniel and Kevin, we had a powerful group of five other players from our Honor Roll Team. Justin Wang (6th grade) and Nikhil Jaha(6th grade) scored points for the Team. Justin faced some really tough competition and survived the weekend getting draws and defeating players with far higher ratings. Nikhil, who for the last few months has climbed high on our ladder of players, stood his ground against difficult opponents and it led him to and individual trophy as the best player with a rating under 1200. His rating is now 1428. Daniel's rating went to 1713. Justin's to 1623 and Kevin's to 1629. Amazing gains for this four young men, only reflecting their excellent chess skill. Our back-up players in this Elementary School Championship section were Sharvil Kekre (6th grade), Brett Beardsley(6th grade) and Amarinder Chahal (6th grade). Amarinder convinced his parents to take him at the last minute. I am glad he did. Like the other participants, being at the Nationals can only be a described as a fun and exciting experience. There is nothing like it for young chess players. My boys still talk about their experiences and the good times they had at the Nationals they attended 20 years ago.

I am already thinking about next year's Weibel Chess Team. We are lacking Kindergarten and first grade students-our foundation for years to come. I will be sending home a letter soon to all parents of Kindergarten and first grade students in the Weibel Chess Club to invite them to participate in a special chess improvement program I intend to run weekly this summer. There will be no charge-only a commitment to join the Team on Fridays in the Fall. I hope I get an overwhelming response so in the near future our new crop of players will also have the excitement of being members of a National chess championship team. On a practical note you might be interested to know that my sons' participation on the Hopkins' National Championship Junior High School Team and their other chess accomplishments helped them get into the colleges of their choice. I know this from speaking to an admissions officer at UC San Diego where my youngest son went. In the case of my middle son, who won five State titles and placed second in the nationals twice, his chess success so impressed the Dean of Admissions of the International School in Washington, D.C., during a college fair at St. Mary's College in Moraga. She told him to send her his application personally. My son received early admission in November and saved us a lot of college application fees and worrying about what school he would attend.

Obtaining a national title in any sport is a dream that many athletes and coaches never achieve. I am thrilled for our players, my staff and the parents at Weibel Chess for we are champions not only in spirit, but also in reality. Special thanks go out to all the parents who brought and sent their children to Atlanta this weekend as well as to the Weibel School teachers who provided the students with their homework in advance and cheered them on. To our coaches: IM Ricardo De Guzman, Francisco Anchoudo, Sandi Ordinario and Gaurang Mehta. Richard Shorman deserves special thanks and recognition because he has not only taught at Weibel for most of its 21 year history, but his methodology, his philosophy is the foundation of both the Mission San Jose and the Weibel chess programs. Mr. Shorman is the guru and the mentor of myself and Joe Lonsdale (coach of the MSJES Team) who have brought our dream of an Elementary School Championship title in the Spring Nationals, the top chess event each year, to fruition. I need to add one more coach to this list-Ted Castro. Ted Castro started his chess teaching career with Weibel and Success Chess School. He hasn't been with us on Fridays the last two years due to his lack of time as he now has 50 private students (with 40 on his waiting list). Many of our players are among his private students. Most of the top young players in the Bay Area are among students. Yet, he took time out of his busy schedule to join us at the Nationals where he paraded around in our Weibel shirt and cap spending his time in our team room going over the games of our players.

I will once again provide my Kudos to Carl Moy for his intensity that convinced many of the parents of players not sure whether to attend to join us in Atlanta. I know he was frustrated because he could not get all of the parents to understand what their children would miss. And, those that failed to hear him out-well, sadly, for their children--did miss the wonderful and exciting experience of Atlanta. Maybe, just maybe, they will hear him out next year as we head to Dallas. Christy Lin's experience making travel arrangements and booking hotels for her daughter's synchronized swimming team eased our ability to get to Atlanta and to interact as a team there. Thanks also to the Kekre family who were willing to bring Sameer Vijay along and allowing him to stay with them and to Bindu Jaha and Wei Sun for permitting a non-Weibel student, Alexander Makhratchev, to stay in their room with their children.
Chess is Forever,
Alan
PS: I have attached Davis Ho's photograph of the Weibel Knights of the Round Table getting ready to undertake their quest for victory in the last round of the National championships.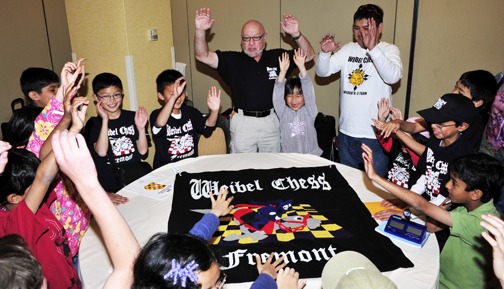 PRESS RELEASE ON NATIONALS: MAY 12, 2010
A couple of months ago you did a nice blurb on the Weibel Elementary School Chess Team winning the Fremont City Championships. This has been an amazing Spring for our team. This past weekend (May 6 through 9) 16 members of our team travelled to Atlanta, Georgia for the most prestigious scholastic event in the United States, the U.S. Chess Federation's Elementary School National Championships. Over 2000 Kindergarten through sixth grade students competed in this annual Spring event. Our Teams competed in three of the four championship divisions--the Primary School Grades 2 and 3, the Elementary School Grades 4 and 5 and the Elementary School 4 through 6. We did not fair well in the Elementary School Grades 4 and 5 placing 17th out of 42 teams. However, Mission San Jose Elementary School, last year's Elementary School Grades 4 through 6 champions, placed third. Mission San Jose also did well in the Primary School Kindergarten and First Grade Championships, placing second. In the Elementary School Grades 4 through 6 Championships, Weibel placed third after battling through the seventh round for first place. Round seven was crucial for our Primary School Team as we entered in second place. We finished tied with Hunter College Elementary School of New York for first place. Thus, Weibel Elementary School became the only Northern California team to obtain the title of National Primary School Champion and only the second team in the near forty years of this event to win a national title in this competition. Mission San Jose Elementary School took home the 4 through 6 grade title last year. For most of the tournaments existence, teams from the East Coast and more specifically New York have won the National titles. Now New York knows the strength of scholastic chess in a city named Fremont in California.
Another first occurred in Atlanta--our championship team won the victory with girls. Well, we did have one top boy. However, the other three players on our primary school team were girls. Even our back-up team member was female. The one young man on our team, Michael Wang, won our state Primary School individual title this year. Our girls are also quite impressive and successful. Joanna Liu, a second grade student, went undefeated in seven games in the eight year old and under section of this year's Giirls Nationals to be award the Championship title. Joanna was invited to attend the World Youth Chess Championships to be held in Greece in November. Alisha Chawla, a third grade student, although eligible for the eight and under group at the Girls Nationals, decided to play in the ten and under section as she had placed second last year in the younger group. She finished in seventh place. Alisha has twice represented the United States in the World Youth Chess Championships. In 2008 she went to Vietnam and in 2009 she competed in Turkey placing 7th out of 82 players. Our third girl in Atlanta we deemed our heroine as she has been a raising star for the last two months--Serafina Show, a second grade student. If it had not been for her success against much higher ranked players we would not have obtained the title. We all feel that next year Serafina will be among our elite young women that the U.S. Chess Federation will invite to attend the 2011 World Youth Chess Championships. I have said it before and in Atlanta it proved true--in Weibel Chess, girls rule!
Alan M. Kirshner, Ph.D.
Director
Weibel Chess Team
(510) 659-0358
Professor of History, Ohlone College
(510) 659-6242
http://www.WeibelChess.org