While many universities and colleges take into consideration chess accomplishments for admittance, a few actually offer full and partial scholarships. I am listing those schools that I know have special chess scholarships. I suspect there are more and when I locate them, I will add those colleges to this list.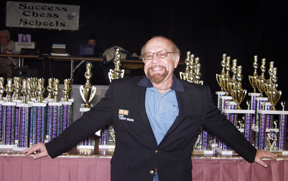 Dr. Kirshner shows off his new University of Texas, Dallas blazer. He along with Jim Eade, former CalChess President, serve on the University's Advisory Board. UTD provides numerous full tuition chess scholarships each year.
Florida
Harriet L. Wilkes Honors College of Florida Atlantic University A $500.00 yearly Scholarship for the Florida Atlantic scholarship is for the winner of the Florida Chess Association South Regional Championship! (This chess tournament is only for residents of South Florida).

Hawaii
1. Hawaii Pacific University, Honolulu (AND)
2. Chaminade University, Honolulu.
Our State Scholastic Championships in 2002 offered as a special prize $1000 scholarships from Hawaii Pacific University & Chaminade University for each of the top two 12th grade finishers! I am not sure what the final offering will be this year. We are hoping to have a larger one from the University of Hawaii. Our State Scholastic Director, Guy P. Ontai <gpontai@hawaii.rr.com>gpontai@hawaii.rr.com is still putting together the details for that event to be held in April 2003, in Honolulu. Randy Prothero, President, Hawaii Chess Federation.
Illinois
Shimer College, Waukegan. Awards a maximum of $2,000 per person per year. Contact Dr. David Shiner, chess coach, at david@shimer.edu or 847-249-7891.
Kentucky
Morehead State University, Morehead. In 2003 we have a winner of the Leadership Award of $4,000 ($1,000 per year, renewable for four years), in coordination with Quad D of the Kentucky Chess Association. This award will give a substantial scholarship to the top-finishing senior in our Quad D Regional Tournament (which is the qualifying tournament for the Kentucky State Team Championships). Carol Becker, Director of Financial Aid, and Rhonda Swim, Technical Director at Morehead State University are directly responsible for facilitating this scholarship. The senior who receives the scholarship does not have to play chess while in college. In fact, MSU may not have a chess team organized for competition.
Louisiana
Louisiana State University in Baton Rouge for chess scholarships for the year
2003.
McNeese State University, Lake Charles.
The winner of the K-12 section of the 2003 Louisiana Scholastic Chess Championship will win a scholarship to McNeese State University valued at $11,200 provided the following requirements are met: (1) The winner is currently in the 11th or 12th grade, (2) The winner has an ACT score of 25 or more, (3) The winner graduates from High School with a GPA of 3.0. or greater, and (4) The winner meets all of McNeese State University's normal requirements for admittance.

Maryland
The University of Maryland at Baltimore
MARYLAND SCHOLASTIC CHAMPIONSHIPS in 1995 at UMBC
High School Champion Won a Full Four-year Scholarship to UMBC*. This was
Sponsored by the Maryland Chess Association, in Cooperation with the UMBC Chess Club and the University of Maryland Baltimore County. (* The scholarship will be a full four-year award for MD resident tuition. To qualify, the candidate must be accepted to and matriculate at UMBC. To maintain the award, the recipient must earn 12 credits each semester and maintain a grade point average of 3.25. The scholarship will be awarded to the highest-placing MD resident who
accepts the award. If a nonresident wins the High School Section, that student will be recommended for a possible additional scholarship.)

Mississippi
1. Ole Miss in Oxford Two $500 scholarships for the top girl and top boy winners of the Dexter Visits the 2nd Tiger Scholastic Chess Tournament. Offering a scholarship to the top girl increased the number of girls playing in the 9th-12th grade category.

2. Mississippi State University in Starkville Two $500.00 scholarships for the top boy and girl chess players at the MS State Chess Championships for 2002 and 2003.

3. Jackson State University in Jackson Two $500.00 scholarships for the top boy and girl chess players at the MS State Chess Championships for 2002 and 2003.yes they get to choose their college!

North Carolina
An Annual College Scholarship Dispersment of at least $300 in perpetuity! A local charitable foundation, the Henderson County Community Foundation offered a scholarship program where if you invested a minimum of $5000, they would guarantee an annual scholarship dispersment of at least $300 in perpetuity. We have given out six, $300 scholarships so far and this year a donor came forward with an additional $200 to bump it up to $500. As a part of our scholastic program though it has been a cornerstone of our promotional efforts. Last November (2002) we had 215 students play in a USCF rated chess tournament here in Hendersonville and last March, we hosted the NC State scholastic championship with over 400 participants from all over NC. For more information contact Chuck Palmer, HCSCA, http://www.brinet.com/~palmer/hcsca, palmer@brinet.com
New Mexico
The University of New Mexico, Albuquerque.
A $1500 yearly scholarship award for the K-12 Scholastic Championship. For more information contact Mr. Kevin Elliott atzzelliott@aol.com,
Ohio
Kenyon College in Ohio recently sent recruitment letters to all High School students on the United States Chess Federation's Top 50 Age Group List. $10,000 was awarded towards $35,000 per year tuition fees.
An Annual $500.00 College Scholarship Award
to any College is presented by the OSCA to the top 12th grader at the yearly State Scholastic Chess Championship Chess Tournament.

Oklahoma
Rogers State University in Claremore.
In 2003 is offering a $200 per semester chess scholarship starting with the next semester. To obtain a scholarship application, email finaid@rsu.edu or call (918) 343-7553.

Rhode Island
1. Rhode Island College, in Providence.
Rhode Island College was the first school in the country to award scholarships to talented chess players. Attracting bright problem solving chess players to their campus inspired other Universities into developing chess scholarship programs by perennial collegiate chess powerhouses like UMBC and UTD. Now, in 2002, they have a pool of approx. $7000 with which to help subsidize their players' college education.

Tennessee
Tennessee Technical University in Cookeville, awards a scholarship to the Tennessee State High School Champion each year, 4 years valued at $12,000.

Texas
1. University of Texas--Dallas
Academic Excellence Scholarship -- waiver of all tuition and mandatory fees plus $1000 per year toward housing for each of 4 years. Scholarship will be upgraded if student has an excellent academic record. Approximate value $18,000+.

2. Texas A&M University--Kingsville,
Housing Scholarship -- this is a four-year scholarship and is valued at $7,500.

3. University of Texas--Brownsville
President's Chess Scholarship -- UTB will offer two four-year scholarships to top students in South Texas. These scholarships will include tuition, books, and fees with a value of over $10,000 each.

4. Southwest Texas State University,
San Marcos Optimist International Scholarship - $1,000 scholarship.

5. Del Mar College
President's Chess Scholarship -- a two-year scholarship to include tuition, books, and fees with a value of over $4,000 for a student within the local five-county area.

6. Incarnate Word Academy, Corpus Christi
President's Award - one semester scholarship for a boy or girl entering 6th through 8th grade for the 2002-2003 school year. Value $2,500.
7. St. Mary's University, San Antonio
Has recognized a revived, national enthusiasm for chess with the establishment of two, $5,000-per-year scholarships for students who play the game competitively. One scholarship will be awarded to the winner of a regional chess tournament still to be determined. The other scholarship recipient will be a member of the Original Wimberley Scholastic Chess Club, a program sponsored by the Wimberley nonprofit Skipperweb, started by Robert Skipper, a St. Mary's University philosophy professor and scholarship founder. The first two scholarships will be awarded next spring to a current high school junior or senior.